Enjoy Indoor Golf Chicago
Be transported to a beautiful pacific ocean golf experience and enjoy indoor golf in Chicago. The Southern Links Golf Club in Okinawa Japan offers complex holes with gorgeous views.
From Northfield IL just north of Chicago enjoy a great indoor golf experience.
Check out the indoor golf version of The Southern Links Golf Club
Southern Links 14th Hole
Almost straight par 5.
A very accurate tee shot is required for this hole.
The first shot avoids the pond that protrudes from the right, the second shot surely avoids the creek before the green and wants to bet on the third shot.  Be careful with the green bunkers in front of the green.
Click to book your Tee Time for Indoor Golf in Chicago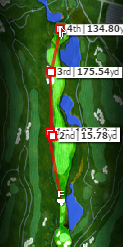 Southern Links Hole 14 Results
The wind was blowing right to left about 8 mph. Wanting to have a slight fade into the wind to hold the line, instead over released for a push draw, ending up in the hazard.
After a drop, my third shot ended up in the bunker. With 135 yards to go, hitting off GolfZon's bunker mat (amazingly realistic, it sits down into the soft sand) ended up on the green.
Then two putts for a bogey with a penalty stroke for the hazard. I enjoyed indoor golf on a very realistic GolfZon Vision simulator. Southern Links in Okinawa on the Pacific Ocean proved a fun, beautiful test.