The 18-hole golf course is surrounded by the dynamic coastline and bountiful nature of Okinawa. Players can enjoy a relaxing game of golf while overlooking the giant panorama of the Pacific Ocean.
Check out the indoor golf version of The Southern Links Golf Club
6th Hole
Straight par 4.
The tee shot wants to attack from the left of a relatively wide fairway, but a hazard awaits to the left.
The second wants to attack from the front avoiding the guard bunkers on the left and right.
Click to book your Tee Time for Indoor Golf in Chicago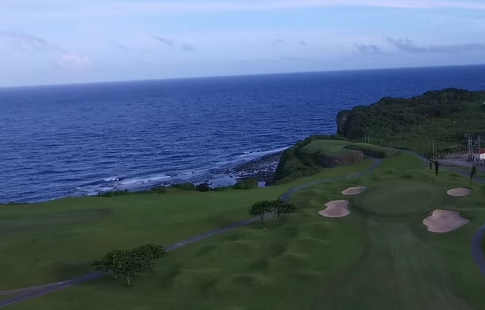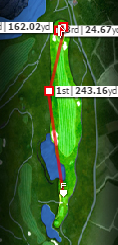 Playing Golf on 6th Hole at Southern Links Golf Club
I drove 243 yards to the left of a narrow fairway, missing into the rough.
An approach of 156 yards from the rough with a 6 iron. I found the green side bunker on the back right of the green.
Played 162 yard approach with a 6 iron to a back right pin position. It was intoxicatingly close to the sand with a little too much fade ending up in the sand trap. The GolfZon simulator has a special sand piece that allows for very realistic sand experience. It starts with long fiber carpet that allows the ball to sit down in the sand. There are plastic teeth that allow for a very realistic bounce experience to blast out of the trap. Come play golf inside and experience a great bunker learning opportunity. Unless of course, you steer clear of the bunkers!