Play Indoor Golf Northfield
Be transported to a beautiful Pacific Ocean golf experience and play indoor golf Northfield, IL just outside of Chicago. The 7th hole from Southern Links Golf Club in Okinawa Japan offers views that rival Pebble Beach.
Look at the video of this golf hole to see the giant cliff drops off the right side of the fairway.
Check out the indoor golf version of The Southern Links Golf Club
Southern Links 7th Hole
Cliffs beyond 40 meters.
Southern Link's view over the ocean par 4.
The course description speaks of bold and meticulous play of "player fighting the wind, fighting the sea."
Click to book your Tee Time for Indoor Golf in Chicago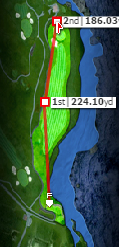 Southern Links Hole 7 Results
Wanting to stay out of the Pacific Ocean, with a wind blowing off the ocean I was able to drive it 224 yards and stay in the narrowing fairway. That left 186 yards to the pin. I hit a nice 3 hybrid to the back left of the green. Two putts for a nice par.